Each year in the U.S., thousands of people are left traumatized by a tragedy they didn't see coming. One example is the mass shooting that took place at a Las Vegas music festival in October of 2017, leaving 58 dead and 851 injured.
In an Employee Benefit News article, Lisa Murfield, HR manager of Tampa-based law firm Hill Ward Henderson addresses the issue of employees who suffer a trauma and then must return to their home and jobs, not knowing how to deal with the physical and emotional stress they are suffering.
Referencing the Las Vegas shooting and its survivors, she said, "They drove home with their trauma. Once they got home, they came into their workplaces, maybe even your workplace. What do we do as HR professionals when our employees experience trauma?"
While there is no easy way to deal with trauma in the workplace, HR executives need to practice compassion, Murfield said. This includes reviewing policies, procedures and benefits to ensure they are an effective resource for workers struggling with a loss or traumatic experience.
Offerings such as bereavement leave, employee assistance programs, wellness programs, healthcare policies, paid time off and long and short-term disability may all be effective ways to help an employee who is struggling in the wake of a tragedy — if those benefits are working correctly.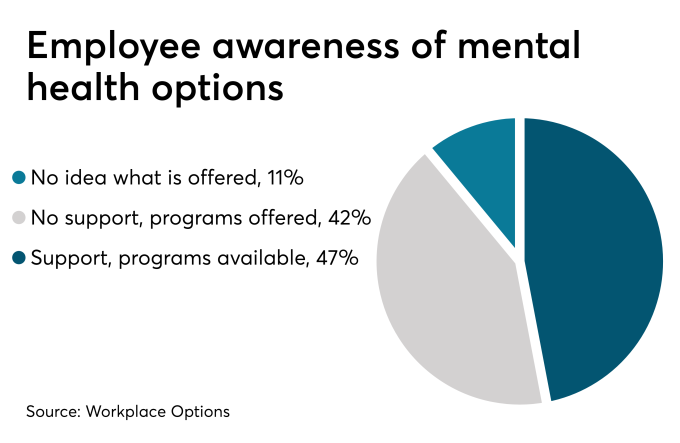 HR executives may need to reassess their benefits to make sure they are giving employees the appropriate amount of time to recover. For example, after suffering the loss of her husband, Facebook COO Sheryl Sandberg rewrote the company's bereavement leave policy to be 20 days for the loss of an immediate family member and 10 days for other family members and friends, an increase from three days of leave.
Roughly 88% of employers offer paid bereavement leave benefits to workers, according to data from SHRM, but it is frequently just a few days. "So many of our companies expect us to come back like nothing happened," Murfield said. Giving employees extra time off can actually decrease absences long term, she added.
Counselors provided through EAPs can also be helpful for dealing with tragedy — but only if the program is high quality. Murfield recommends employers ask tough questions of EAP providers. For instance, can the program immediately send on-site counselors in the event of a traumatic incident at work?
"EAP programs [is not a benefit] you should be skimping on," Murfield said. "Mental health is far too important to your employees."
It may also be important to train HR managers and employees on having difficult conversations. Many are unsure of the best way to handle tragedies in the workplace and it is valuable to implement policies to help employees cope with a variety of incidents, including terminal illness and suicide, she said.
"Resilience training can help employees understand how they react to different kinds of trauma," she said. Learning strategies that will enable them to work through the negatives can help employees heal and return to work faster.
Murfield's interest in how employers deal with trauma stems from personal experience. A few years ago, she lost her 22-year-old son to suicide. At the time, he was working for Cabella's and while the retailer was supportive of her family, Murfield's own employer was not. Just a week after her son's funeral, the company laid her off. Compassion, she said, can make all the difference in a time of grief.
"When your employees go through trauma, what happened outside your workplace doesn't stay outside the workplace," she said.