Younger employees have a tendency to believe they will always be healthy. They don't worry about the future and the possibility that they could become disabled. As the years go by, it becomes more and more likely that a person will have an injury or illness that will mean at-home custodial care will be necessary, or they will need care at a nursing home or an assisted-living facility.
In recent years there's been an uptick in interest in long-term care and long-term disability insurance. The two types of coverage may sound similar, but they are very different. It's important for employers to know how they differ so they can help their employees understand why they would need both types of insurance.
An article in Employee Benefit News goes into detail about what each coverage entails:
Long-term Care Insurance
Long-term care insurance covers the cost of custodial care if a person is no longer able to perform at least two activities of daily living. These activities include eating, bathing, dressing, moving from a bed to a chair (called transferring), using a toilet or caring for incontinence.
Most people think LTC insurance is for older people who need to turn to a nursing home for care near the end of their lives — which is also part of the reason more employees are asking for LTC insurance. But LTC insurance can cover anyone who requires extended care.
LTC goes beyond medical care to include living assistance for a severe illness or disability for an extended period of time. Although older people use the most LTC services, a Millennial or middle-aged employee who has been in an accident or suffered a debilitating illness might also need long-term care. In fact, 40% of people receiving long-term care services are 18-64 years old, according to America's Health Insurance Plans. Actor Christopher Reeve was 42 when he was thrown from his horse and was paralyzed. He received long-term care services for nine years before his death.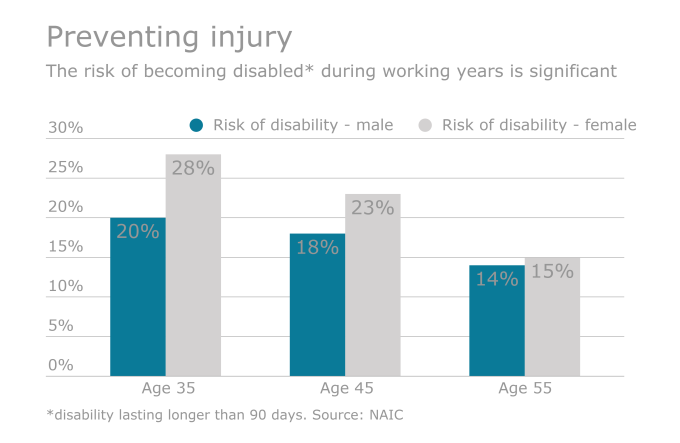 Most people believe something like that will never happen to them, but it's important to plan for the possibility. While Reeve had financial resources to cover his healthcare, that's not typically the case for the average person. LTC can be very expensive, depending on the level of services needed and the length of time the individual needs it.
One year in a nursing home can average more than $50,000. In some regions, it can cost twice that amount.
When offering LTC insurance, employees choose the amount of the benefit — typically an amount granted each month — and the length of time the benefit covers — such as two years, three years or ten years. Obviously, as the benefit amount or length of time increases, so does the premium.
LTC insurance premiums are based on a person's age, which means the earlier employees buy, the lower the premiums. If a person first buys the insurance at age 32, they lock in a better rate than if they purchase the insurance at age 54. Rates may increase only by a class action that is approved by state insurance regulators. Finally, LTC insurance is portable, which means employees take the policy with them if they move onto another job, or retire.
Long-term Disability Insurance
Long-term disability insurance may sound somewhat similar to LTC insurance, but the two are very different and important in their own right. Most workers don't believe they'll ever become disabled and need LTD insurance. Unfortunately, more than one in four 20-year-olds will become disabled before they reach retirement, according to the Social Security Administration.
LTD insurance is an income-replacement benefit that kicks in when the employee loses income for an extended period of time due to a disability. LTD insurance can be used for living expenses, not just covering care.
LTD insurance starts after short-term disability ends, typically after three to six months. In most cases, it pays 50-60% of an employee's salary until they can return to work or, in some cases, until they retire. The more working years an employee has in front of them, the more they need LTD.
Unlike long-term care insurance, LTD is typically not portable unless the policy contains conversion privileges. It ends when the employee changes employers.
If you offer both types of insurance, make sure your employees understand the difference. These types of insurance will help them in different ways — both important and more beneficial to have at a young age, but for varying reasons.
As an employer, you're likely employing multiple generations of workers right now. Offering a range of benefits, including long-term disability and long-term care insurance, can help employees prepare for the unexpected now and in the future.