If you were to ask one of your employees if they were ready for open enrollment, they would probably say yes – but chances are they've spent very little time getting prepared.
According to an Employee Benefit News article, a new consumer confidence survey from insurer United Healthcare found that while 77% of employees felt prepared for open enrollment, most spent less than three hours researching prospective health plans. A plurality of workers (42%) say they devoted less than an hour to the process and 29% say they devoted one to three hours to researching medical plans.
Rebecca Madsen, chief consumer officer at United Healthcare, says this could speak to a lack of knowledge on what a health plan entails. While employees may be confident they know their options, they often don't spend time researching basic information like whether or not their doctor is in network, she says.
"Don't assume just because people say they are prepared for open enrollment that they actually are and that they're actually investing the time" to master the subject, she says. "There's still a huge opportunity to make sure people are informed and educated as they go through the process."
Employees may not be taking the time to explore basic aspects of health insurance plans. Only 36% of respondents say they use the Internet to comparison shop for healthcare. Madsen says it's not exactly clear if the employees who say they did not comparison shop online are using other methods to shop for healthcare, or if they're just not shopping around at all.
"As you go through open enrollment, there are a lot of people that just check the box," she says. "They actually don't engage in the process."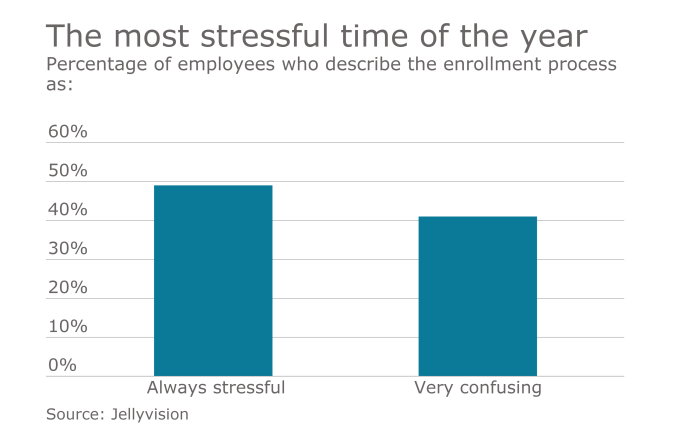 There are also some generational differences that illustrate who uses the Internet to shop for health plans. Approximately 51% of Millennials, 34% of Generation X and 27% of Baby Boomers comparison shopped for health plans online in the past.
To make sure you're reaching everyone, it may be beneficial to communicate benefits options to employees through a variety of different channels during open enrollment, Madsen says. For example, if you're sharing benefits information via a mobile app, it may also be useful to hold a health fair or in-person meeting.
"It's not a one-size-fits-all if you're trying to reach your entire population," she says.
Ancillary benefits are also becoming more popular during open enrollment, the survey found. Nearly 80% of respondents say that ancillary benefits like dental and vision are important to them. This number increased to 85% for full-time employees.
While these benefits are often viewed as extra additions to a health plan, Madsen says, most respondents understood that dental and vision health can be good indicators of overall well-being. If an employer is not offering ancillary benefits, Madsen says, it may be something to consider for this upcoming year.
There was also an increase in the number of respondents who indicated they would likely use telehealth. The survey found that 43% say they would use a telemedicine benefit, an increase of six percentage points from 2016.
"Everyone may not be based in a city and may not have access to care," Madsen says. "Make sure that you really remind your employee base of other resources that are available to you."
Overall, Madsen says, they are seeing some signs that people are beginning to engage more in their healthcare. But there is still room for improvement, she says, and employers need to meet people where they are in order to help them better select their health benefits.
United Healthcare surveyed 1,003 U.S. adults, 18 and older, via telephone in August. Of the respondents, 86% had health insurance and 42% received employer-sponsored health insurance.