Schwartz Insurance Group is proud to have hard-working employees who are second to none when it comes to dedication in their respective fields, and team member Charlie Stoddard is no exception.
In 2016, he was recognized by the Centers for Medicare and Medicaid Services (CMS) as one of the top performing agents and brokers in the country. That same year - and again in 2020 - he also was honored by Healthcare.gov with a Certificate of Acknowledgement – and was officially made a member of their Circle of Champions.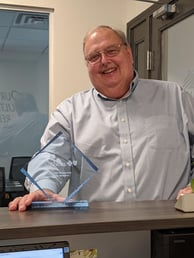 Charlie's latest achievement? He has done it again - as in 2018, he has had an Anthem award bestowed upon him in recognition of being one of their top Kentucky Medicare producers for 2019.
"It feels great to win such an award," Charlie says. "Building trusted relationships with people throughout Kentucky, and finding the best ways to help them, will always be rewarding. It's the main reason for the success I've experienced - my clients know I have their best interests at heart and they feel comfortable referring others to me."  
Congratulations from all of us here at Schwartz Insurance Group, Charlie. As always, we appreciate your exemplary work and dedication.